Ever wonder what it's like to be a vegan cheese maker? We sat down with Michael Schwarz, the founder of Treeline Cheese, to find out!

1. How did you get started as a vegan cheese maker?
I grew up in South Africa, under a system of legalized racism. Early on, my parents instilled in me a belief that I should not participate in something I knew to be wrong just because everyone else was doing it. They also stressed how important it was to try and bring about change rather than just accept things as they were.
At a point, one of my greatest pleasures was sampling artisanal cheeses in the French and Italian countryside. But about 10 years ago, after learning how dairy cows are treated, I gave up dairy and eggs, in favor of an ethical vegan diet.
But beyond changing my lifestyle, I knew that providing alternatives to dairy cheese was a crucial part of making that easier for others.
In the beginning, I spent many hours in my kitchen studying and developing the method for making our artisanal nut cheeses. Now, we have a 7,000-square-foot facility and sell our cheese to nearly 1,000 stores nationwide, including 200 Whole Foods Market locations.
2. What does the cheese-making process look like?
There are a lot of steps involved when making cheese from nuts, but the heart of our process is the fermentation of raw cashews. We do this by adding a probiotic to the nuts and culturing them in a controlled way.
It is a very precise and painstaking process. But it is worth it. The culturing and fermentation allow us to get that delicious tanginess and creamy texture without any artificial ingredients, added oils, artificial preservatives, or enhancers.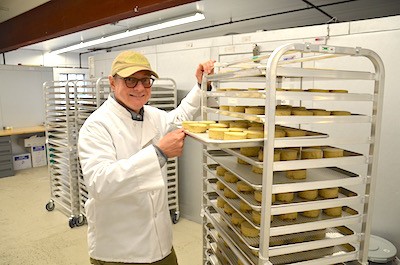 3. What has been the reaction from consumers?
The reaction to our products has been overwhelmingly positive.
Every day we receive messages from happy customers, thanking us for making a tasty alternative to dairy cheese, as well as many stores that contact us because their customers are asking for it.
A lot of dairy cheese lovers taste Treeline and tell us they can't believe it's vegan, and many people say they would be more likely to consider veganism knowing there is a satisfying alternative to artisanal dairy cheeses available.
4. What's your favorite way to enjoy Treeline cheese?
My favorite way to eat Treeline is on its own or with crackers, but I also like to cook with it. The soft or aged cheeses add creaminess to stroganoffs, risottos, and pasta sauces.
I also like to dry the Classic Aged Cheese in the refrigerator so it forms a rind and then grate it over pasta as a substitute for Parmesan. It really is good in risotto.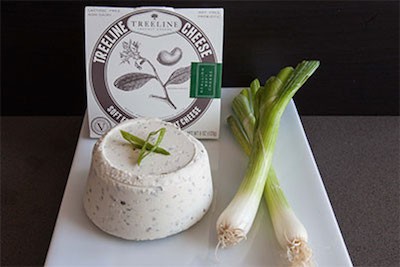 5. Where can people find Treeline Cheese?
Our products are distributed from coast to coast. Our biggest retailer is Whole Foods, but we are in a wide variety of smaller chains like Mother's and Lassens in California, MOM's in Virginia and Maryland, and Earth Origins in Florida. And many stores will order it if their customers ask for it.
6. What's next for Treeline Cheese?
Over the next year or so, we plan to add a lot of new stores, particularly in states where our coverage is a bit thin. We would also like to reach more non-vegans with the message that vegan cheese can be as satisfying as dairy cheese and that going cruelty-free is really easy and healthy. We are also working on some new products, including sweet and savory cheeses.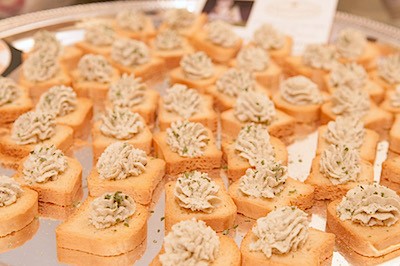 7. Is there anything you'd like to add?
I never get tired of hearing a die-hard dairy cheese eater say, "If this is what vegan cheese tastes like, I can see myself going vegan." To those people I like to quote our trademarked slogan: "Dare to be Dairy-Free!"