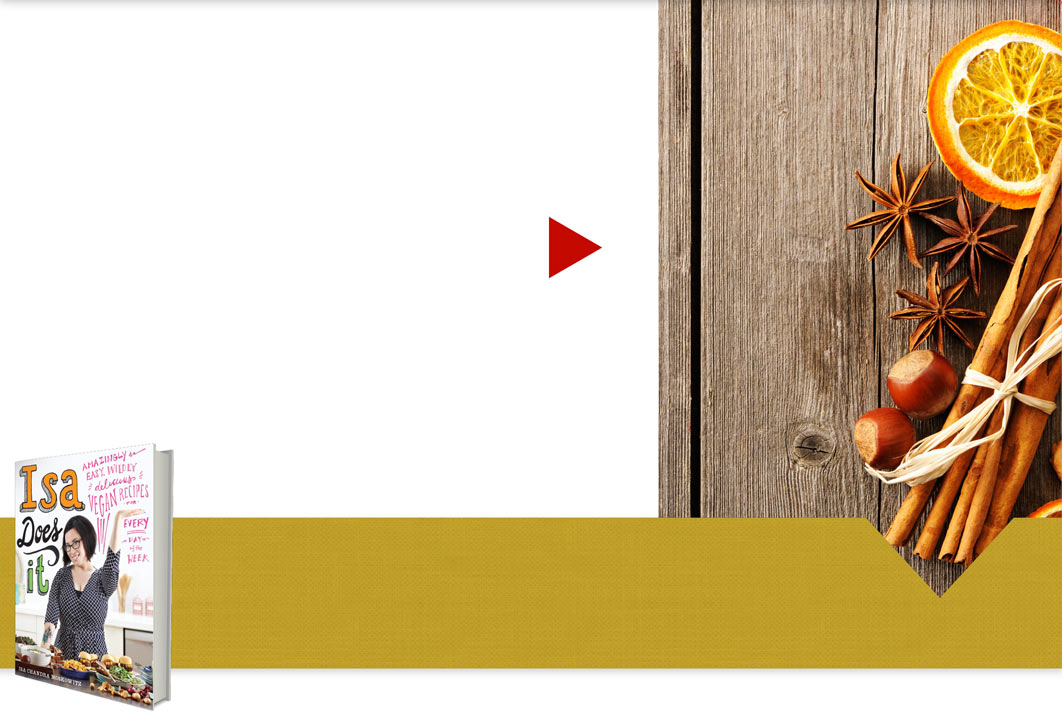 IT'S TIME TO
CELEBRATE!
Factory farms are frightful, but vegan food is so delightful! From creamy mashed potatoes to savory stuffing, eating cruelty-free over the holidays is not only easy and delicious, it just make sense.

Peace to all beings.
MEAL PLAN
COURTESY OF ISA CHANDRA MOSKOWITZ AND THE PPK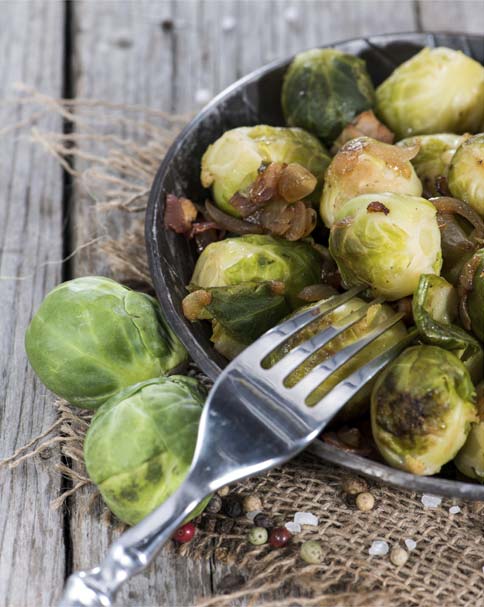 1
ROASTED BRUSSELS SPROUTS
To roast them, preheat the oven to 400°F. Slice off the knobby bottoms and peel off any out of shape leaves. Slice in half, place on a rimmed baking sheet, drizzle with olive oil, sprinkle with salt and toss to coat. Roast for 15 to 20 minutes, flipping once.

Easy as pie.
Actually, much, much easier than pie.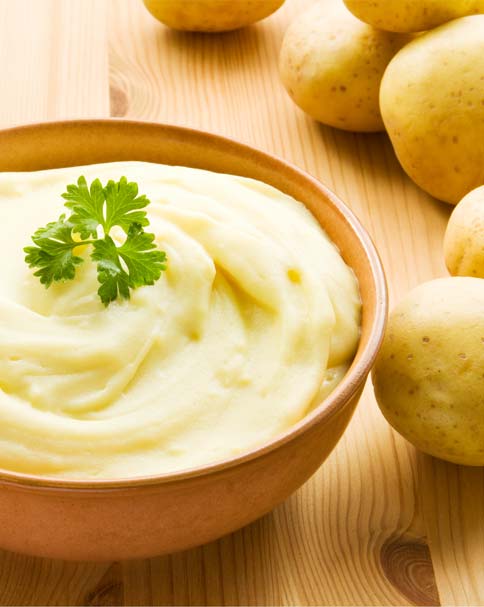 2
FLUFFY MASHED POTATOES
3 pounds yukon gold potatoes 1/2 cup unsweetened almond milk at room temp 1/4 cup extra virgin olive oil 3/4 teaspoon salt (plus more for the water) Several dashes fresh black pepper
Cut potatoes into about 1 1/2 inch chunks. Place in a pot and cover with cold water. Sprinkle about a teaspoon of salt into the water. Cover and bring to a boil. Once boiling lower heat to a simmer and cook for about 12 minutes, until fork tender. Drain potatoes, then place back in the pot. Do a preliminary mash with a potato masher, just to get them broken up. Add almond milk, oil, salt and pepper and mash until fluffy. You may want to add a bit more almond milk, if needed. Taste for salt and pepper and serve!



3
SAVORY MUSHROOM GRAVY
4 cups vegetable broth 1/2 cup all purpose flour 1 medium yellow onion, diced small 2 tablespoons olive oil 16 oz cremini mushrooms, thinly sliced and chopped 4 cloves garlic, minced 2 teaspoons dried thyme 1 teaspoon dried sage 1/2 teaspoon salt Several dashes fresh black pepper 1/2 cup dry white wine (chardonnay is great) 2 tablespoons nutritional yeast
In a small bowl, mix the flour with about 2 cups of vegetable broth until well dissolved. Once dissolved, add the remaining broth and mix. Set aside. Preheat a 2 quart pot over medium heat. Sauté the onion in oil for about 5 minutes, until translucent. Add mushrooms, garlic, thyme, sage, salt and pepper and sauté for about 5 more minutes. Add wine and turn heat up to bring to a boil. Let wine reduce for about 3 minutes. Add the broth/flour mix and the nutritional yeast, if using. Lower heat to medium and cook for about 20 minutes, stirring often. Taste for salt and pepper and serve.


4
CORNBREAD STUFFING
WITH PEARS AND PECANS
1 recipe PPK cornbread or your favorite recipe from a 9×13 pan
1 recipe PPK cornbread or your favourite recipe from a 9×13 pan
3 tablespoons olive oil 4 cipollini onions, diced medium (use whatever onion you like—about 2 cups once chopped) 1 cup pecans 1/4 cup chopped fresh thyme (keep the soft stems on, just ditch the woody ones) 1/2 teaspoon celery seed 2 teaspoons dried sage 1 teaspoon salt fresh black pepper 2 tablespoons olive oil 1 cup vegetable broth 2 red bartlett pears, sliced in 1/4 inch slices (use whatever pear you've got)
Preheat oven to 375°F. Cut cornbread into roughly 3/4 inch pieces. Place on a baking sheet and toast for about 15 minutes, flipping about halfway through. Remove from oven. In the meantime, toast the pecans. Preheat a large heavy-bottomed pan over medium-low heat. Add the pecans and toast for 3 to 5 minutes, stirring often, until they smell toasty and are a few shades darker. Transfer to a bowl and roughly chop once cooled—I like to keep the pieces relatively large. In the same pan over medium heat, sauté onion in olive oil for about 10 minutes, until lightly browned. Add the herbs to the pan and sauté for about a minute. Add the cornbread and sprinkle in salt and pepper. Mix with a spatula, it's fine if you break the cornbread up with a spatula a bit. Drizzle in the oil and vegetable broth. If it seems too dry add a little extra veggie broth. Fold in the apples and pecans. Transfer to a lightly greased 9x13 pan and bake for about 45 minutes, until the top is lightly browned.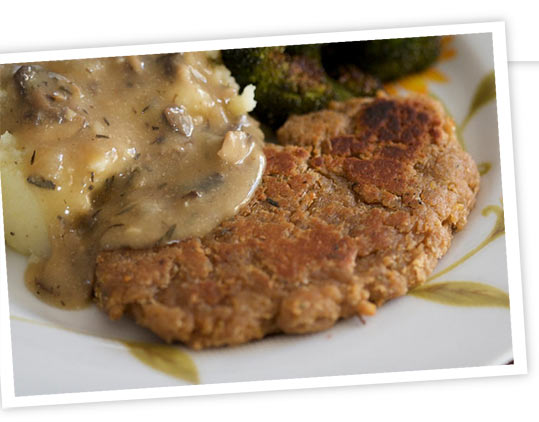 5
CHICKPEA CUTLETS
1 16 oz can chickpeas, drained and rinsed 1/4 cup extra virgin olive oil 1 cup vital wheat gluten 1 cup plain breadcrumbs 1/2 cup vegetable broth or water 1/4 cup soy sauce 1 teaspoon dried thyme 1 teaspoon paprika 1/2 teaspoon dried sage Olive oil for pan frying Optional ingredients: 4 cloves garlic, pressed or grated with a Microplane grater 1 teaspoon grated lemon zest
In a mixing bowl, mash the chickpeas together with the oil until no whole chickpeas are left. Use an avocado masher or a strong fork. Alternately, you can pulse the chickpeas in a food processor. We're not making hummus here, so be careful not to purée them, just get them mashed up. You can also sneak the garlic cloves in here instead of grating them, just pulse them up before adding the chickpeas. If using a food processor, transfer to a mixing bowl when done. Add the remaining ingredients and knead together for about 3 minutes, until strings of gluten have formed. Preheat a large heavy-bottomed skillet over low-medium heat. Cast iron works best. If you have two pans and want to cook all the cutlets at once then go for it, otherwise you'll be making them in two batches. Divide the cutlet dough into 2 equal pieces. Then divide each of those pieces into 4 separate pieces (so you'll have 8 all together). To form cutlets, knead each piece in your hand for a few moments and then flatten and stretch each one into a roughly 6 by 4 inch rectangular cutlet shape. The easiest way to do this is to form a rectangle shape in your hands and then place the cutlets on a clean surface to flatten and stretch them. (OK, maybe my surface wasn't that clean.) Add a moderately thin layer of olive oil to the bottom of the pan. Place the cutlets in the pan and cook on each side for 6 to 7 minutes. Add more oil, if needed, when you flip the cutlets. They're ready when lightly browned and firm to the touch. I've found that they cook more thoroughly if I cover the pan in between flips. I also use my spatula to press down on them while they're cooking, that way they cook more evenly. Now let them rest for a bit and you're done!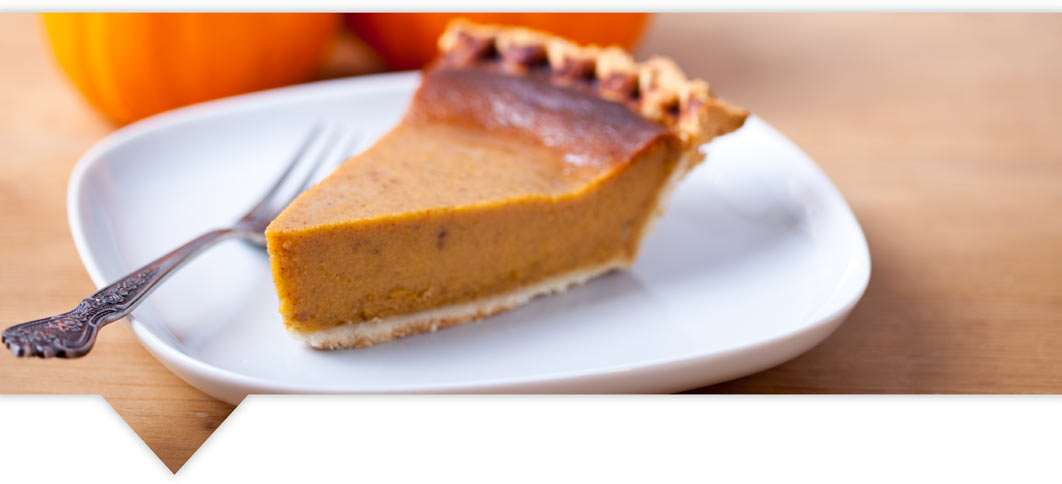 6
VOLUPTUOUS
PUMPKIN PIE
Single pastry crust, fit into a 9 inch pie plate 3 cups cooked pumpkin or other sweet winter squash 1/2 cup pure maple syrup
1/2 cup plain unsweetened soy milk (or your favorite non-dairy milk)
1/2 cup plain unsweetened soy milk (or your favourite non-dairy milk)
4 teaspoons canola oil 1 teaspoon ground cinnamon 1 teaspoon ground ginger 1 /4 teaspoon ground nutmeg Pinch ground cloves 1/2 teaspoon salt 2 tablespoons cornstarch 1 teaspoon agar powder
Preheat oven to 350°F. In a blender, pulse together pumpkin, maple syrup, soy milk, canola oil, cinnamon, ginger, nutmeg, cloves, salt, cornstarch and agar powder until very smooth. Pour into the pie shell and bake for 60 to 65 minutes until the center looks semi-firm not liquidy. Check the edges of the crust after baking for 40 minutes; if the edges appear to be browning too rapidly carefully remove the pie and apply crust protectors to the edges to keep from getting too dark.
Remove from oven and onto a cooling rack for 30 minutes, then chill for at least 4 hours before slicing. Serve with Rad Whip, vegan whipped topping or your favorite vegan vanilla ice cream.
Remove from oven and onto a cooling rack for 30 minutes, then chill for at least 4 hours before slicing. Serve with Rad Whip, vegan whipped topping or your favourite vegan vanilla ice cream.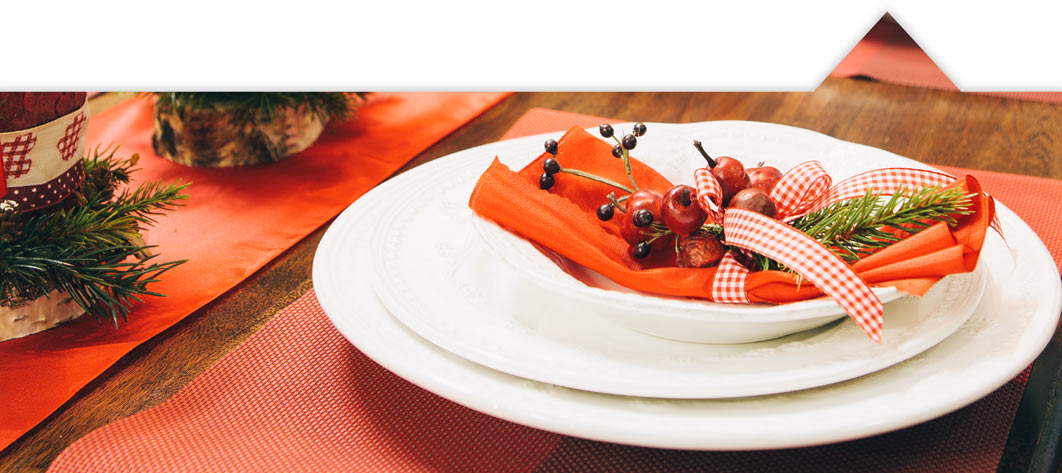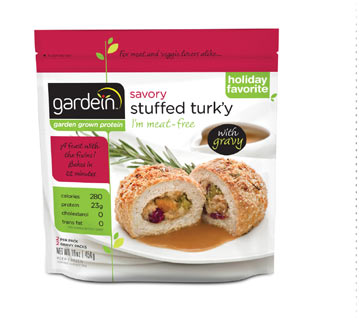 TURKEY
Gardein Stuffed Turk'y and Holiday Roast
From small, intimate gatherings to large celebrations, Gardein's got it all to make your holiday dinner perfect.
FAB FACT: Gardein's gravy (included with Turk'y) is the best we've ever tasted!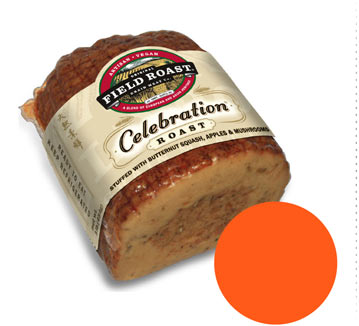 Field Roast Celebration Roast
Packed with incredible flavor, the celebration roast comes prepared with sausage-style stuffing.
FAB FACT: For those allergic to soy, this is the perfect choice. Celebration Roast is soy-free.
SOY FREE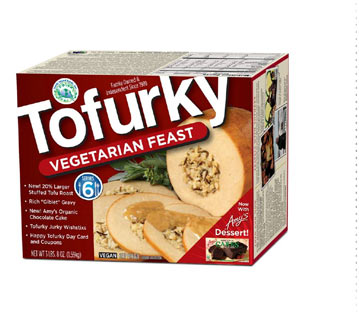 Tofurky
You can't go wrong with a classic. The original Tofurky is savory, delicious and comes with gravy and mushroom stuffing.
FAB FACT: Cholesterol-free, cruelty-free, and full of flavor!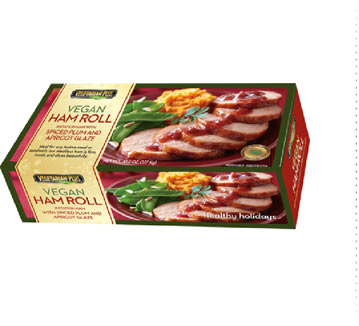 HAM
Vegetarian Plus Vegan Ham Roll
With a delicious spiced plum and apricot glaze included, Vegetarian Plus Ham is the perfect centerpiece of any holiday meal.
FAB FACT: Can be prepared on the stove top, oven or even in the microwave.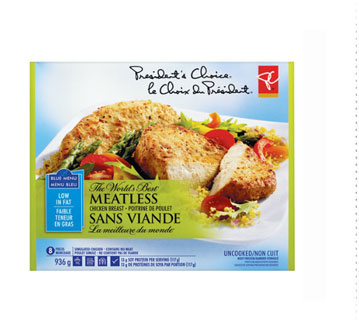 PC Meatless Chicken Breast
Enjoy a tender, juicy, and delicious meatless chicken breast. High in protein, low in fat, and zero cholesterol.
FAB FACT: Great next to rice, cut up and placed in salad or can be used as an ingredient (delicious in a chicken pot pie).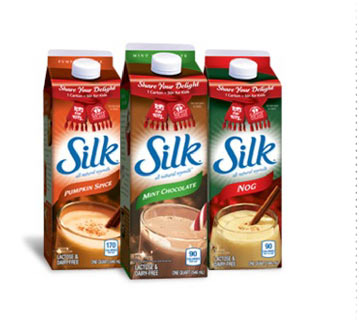 NOG
Silk Nog
Who said you need eggs to make nog? Silk Nog is creamy, delicious and widely available!
FAB FACT: Silk soymilk also comes in other delicious holiday-themed flavors, such as pumpkin spice and mint chocolate!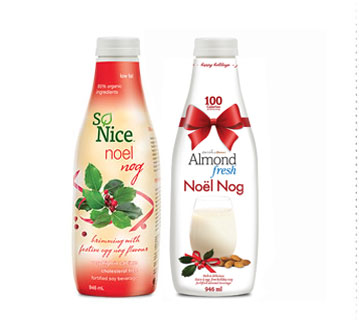 NOG
Noel Nog
The dairy-free and egg-free way to celebrate the holidays.
FAB FACT: Now available in soy milk and almond milk varieties!