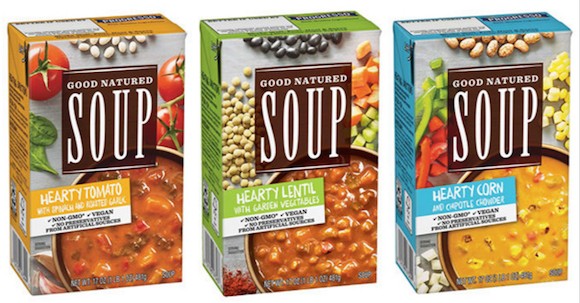 Progresso is a pretty big name in the canned soup world. While the majority of its offerings are not plant-based, the company has long sold three vegan varieties: Hearty Tomato, Lentil, and Tomato Basil.
According to
news reports
, the company recently unveiled a "Good Natured" product line with three flavors:
Hearty Tomato With Spinach and Roasted Garlic
Hearty Corn and Chipotle Chowder
Hearty Lentil With Garden Vegetables
The dairy-free creamy soups utilize various bean and vegetable bases and have the potential to spare countless animals from a lifetime of suffering on factory farms.
Roger Galloway, Progresso's marketing manager, explains the move:
We know that consumers are more interested in plant-based diets. With Good Natured soups, we're celebrating vegetables and showing that beans are not boring and lentils can be fun. Whether you start your Mondays going meatless or recently started pinning vegetarian inspiration, our unique flavors will satisfy your hearty appetite.



As veganism grows in popularity, companies like Progresso are taking advantage of the expanding plant-based food market.

You can join the growing number of people taking a stand for animals, the environment, and their own health by transitioning to a plant-based diet.
Click here
to order your FREE
Vegetarian Starter Guide.