My husband and I have a ritual. Every Friday after I co-host the Sam Simon Show, we meet for dinner in Santa Monica. It's our date night.
Luckily for us, Native Foods, an incredible vegan restaurant that helps support Mercy For Animals through its Native Pals program, has a location in Santa Monica a block away from Viva La Vegan, LA's all-vegan grocery store.
After dinner we went to pick up a few of our favorite things and came across Beyond Meat's brand-new Beast Burger in the frozen section. The picture on the outside of the package catches your eye immediately: very reminiscent of a meaty hamburger.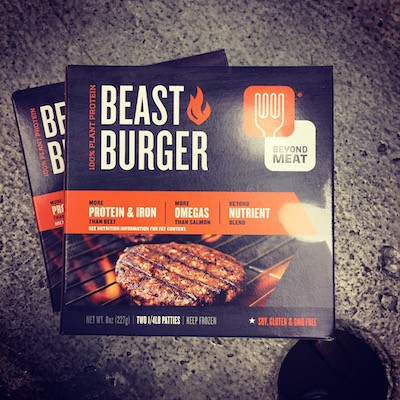 And then there's the nutritional info:
more protein and iron than a beef burger and more omegas than salmon
.
It's also free of soy, gluten, and GMOs.
We were super excited to try the burgers, so the next night we cooked them up.
First of all, when you take them out of the package you immediately notice how huge they are! This is not a dainty veggie burger. We don't have a grill so we decided to cook ours in a pan on the stove. They take about eight minutes to cook (four minutes on each side).
The burgers sizzle and brown just like a hamburger. It's kind of crazy.
I wanted to taste the burger before we dressed it up, so when it was done I cut a piece off. The flavor was nondescript but the consistency was very burger-like.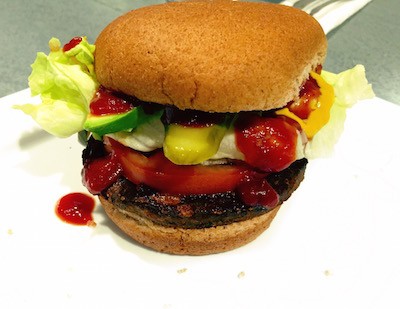 The burger was hanging off the edges of the whole wheat bun I'd placed it on. Seriously, the circumference of this thing is beyond. I dressed it up with lettuce, tomato, ketchup, mustard, and avocado.
It was insanely delicious! And when you consider all the awesome health benefits of this product, I'd say the Beast Burger is a real game changer.