From bacon-wrapped scallops, Baja fish tacos, and cheese-stuffed portobello burgers to coconut crème brûlée, skillet chocolate chip cookies, and New York cheesecake, vegans really can have it all, thanks to the brand-new cookbook, The Edgy Veg: 138 Carnivore-Approved Vegan Recipes.
Chef and food blogger Candice Hutchings has put together this amazing collection of recipes so you can make all
your favorite homestyle meals
. And it's entirely plant-based, ensuring that no animals are harmed in the making of these delicious recipes.
Here's an excerpt: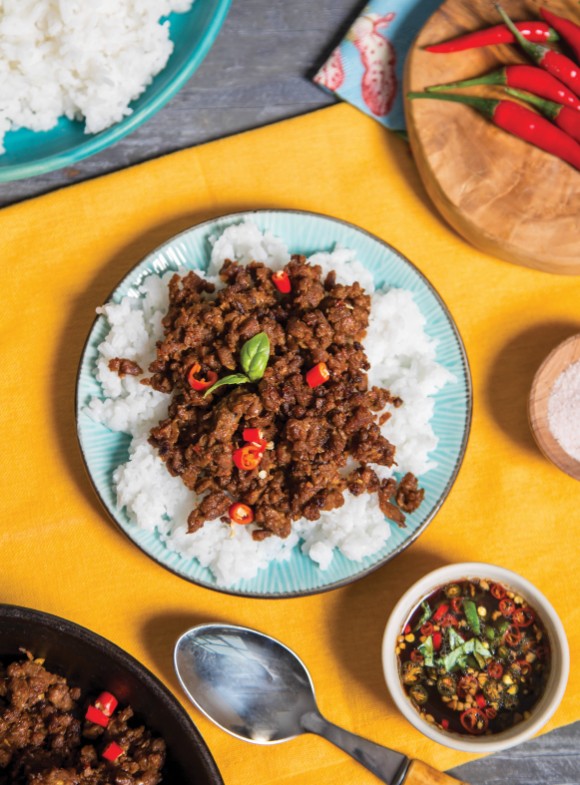 Street-Food-Style Thai Basil Beef
Serves 4

Pad gra prao is one of Thailand's most beloved street foods. I would know because [co-author James Aita] lived in Bangkok for a year, where he acquired a habitual need for the stuff. This dish is so good because of the Thai basil, which gives it a peppery kick (and a kick is what James needs to get me a plane ticket to Thailand). It's a household favorite that always delivers—just like my insistence to go to Thailand ASAP.

Rice
1 cup jasmine rice, rinsed
1½ cups water

Basil Beef
7 garlic cloves, peeled
1 red bell pepper, chopped
2 red Thai chilis, halved and seeded
3 large shallots, roughly chopped
3 tablespoons coconut oil
3 tablespoons water
¼ cup tamari (approx.)
1 teaspoon coconut sugar
2 tablespoons mirin (approx.)
3 tablespoons vegan Worcestershire sauce
2 pounds veggie ground round
Sea salt
1 cup packed fresh Thai basil leaves


Serving Sauce
3 garlic cloves, minced
3 red Thai chilis, sliced
2 tablespoons mirin
⅓ cup tamari
6 tablespoons freshly squeezed lime juice
5 fresh Thai basil leaves, roughly chopped
¼ cup sliced cucumber

1. Rice: In a large saucepan, combine rice and water. Bring to a boil over high heat. Immediately reduce heat to low, cover with a tight-fitting lid and simmer for 15 minutes, until all the liquid has been absorbed. Remove from heat and let stand, covered, while you prepare the recipe. Use a fork to fluff up the rice when ready to serve.

2. Basil beef: In a food processor, combine garlic, red pepper, red Thai chilis, and shallots; pulse until a coarse paste forms.

3. In a large skillet, heat coconut oil over medium-high heat. Add paste and cook, stirring, for about 3 minutes, until fragrant.

4. In a small bowl, whisk together water, 1/4 cup tamari, coconut sugar, 2 tablespoons mirin, and vegan Worcestershire sauce. Set aside.

5. Add veggie ground round to skillet and cook, breaking it up with a wooden spoon. Add tamari mixture and cook, stirring occasionally, for about 20 minutes, until veggie ground round is steaming and heated through. Make sure to check the amount of liquid in the skillet; if it gets too dry, add a little bit of water. You do not want this to be dry. Add more tamari or mirin to taste.

6. Serving sauce: In a small bowl, whisk together garlic, red Thai chilis, mirin, tamari, lime juice, and basil leaves.

7. Once the veggie ground round is heated through, add 1 cup basil leaves. Cover to wilt the basil quickly, about 2 minutes.

8. Serve over rice with a side of cucumber slices and a tiny bowl of serving sauce.


--
*Photo by Brilynn Ferguson